Train stations, along with airports and bus stations, are complex transportation hubs that have countless passengers and staff travelling through them everyday. Not only are these crowded stations stressful to navigate, but they are also difficult for property managers and facility teams to manage. With digital technologies, such as indoor mapping, transportation hubs can ameliorate the travel experience for passengers, while also equipping staff and management with the tools to increase productivity, gain valuable insights, and optimize their time.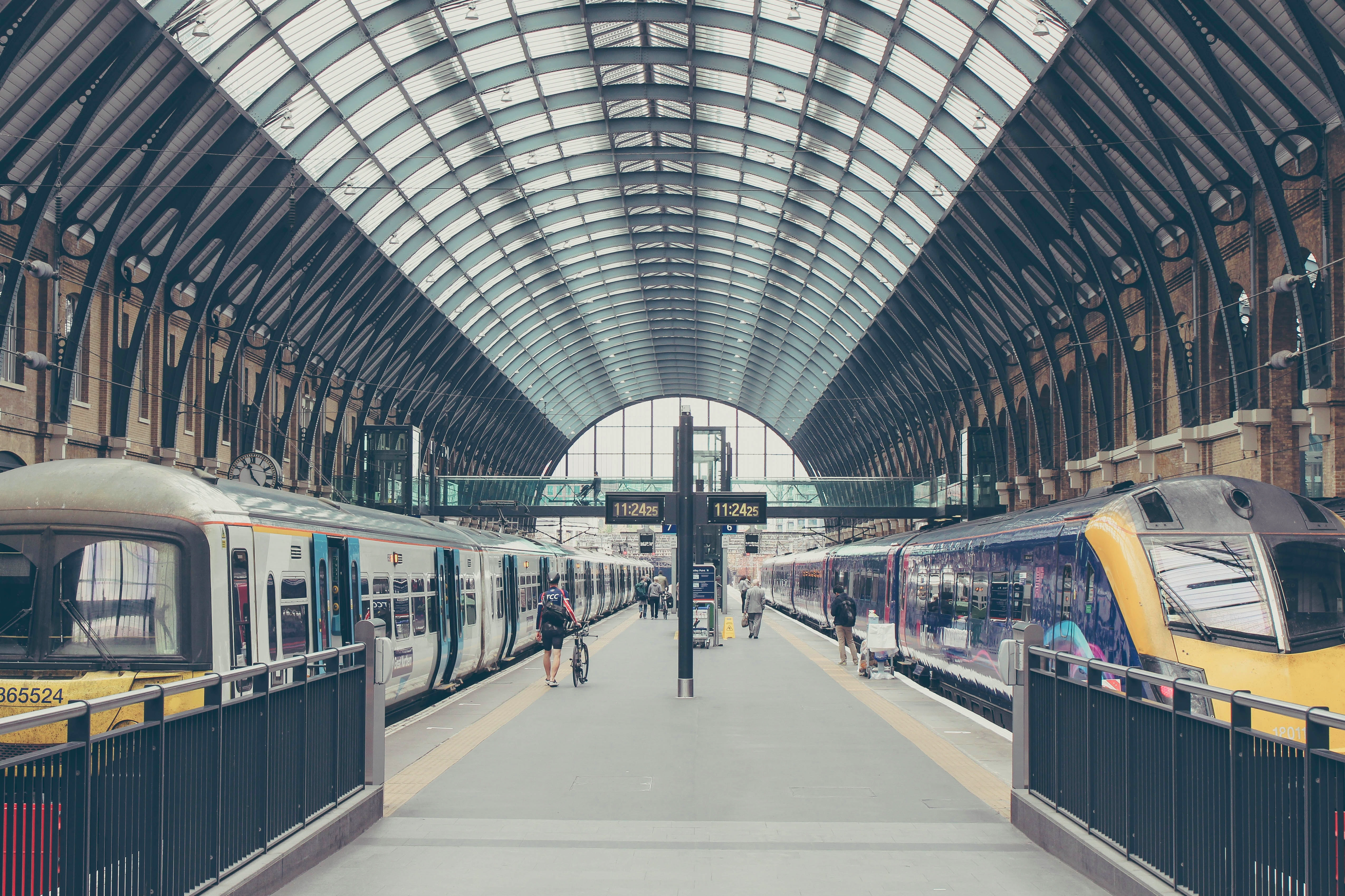 Why Your Train Station Needs A Digital Mapping Solution
There are several benefits for train stations that adopt in digital solutions such as digital directory displays, mobile applications, and indoor mapping systems. The use cases for indoor mapping are endless, and the benefits extend not only to the facilities themselves, but to the thousands of passengers that travel through them. Indoor mapping solutions help guide passengers, reduce confusion and congestion within your venue, improve customer engagement, and yield valuable insights about how travellers interact with your venue which can lead to more informed business decisions. 
With a digital, interactive 3D map, train stations can make navigation simple by providing helpful directions and additional context to travellers, all while reducing passenger stress. Equipped with a powerful Map Editor, this digital map allows property managers and facilities teams to make changes to their maps in real-time. With this in mind, this blog will explore some of the many benefits that a digital mapping solution offers for train stations! 
Reduce passenger stress
Picture this: you're rushing to catch a train home, and upon entering the train station, you're having trouble locating your train platform. We've all been there, and this process is not only frustrating, but stressful to say the least. What if there was a tool that could quickly direct you from your parking spot to your train platform?
Fortunately, digital indoor navigation systems offer the benefit of populating the fastest route to your destination, which is crucial when timing is of the utmost importance. Travellers can see their exact location within the venue, and see their position update through real-time location tracking. This ensures a seamless trip as passengers can better navigate crowded train stations. This is especially true for college students navigating a new city, or passengers making train connections for important business trips. 
Digital indoor mapping also allows passengers to search for various route schedules, view updates on their trip, contact customer service, locate services, and more. With a tool to visualize indoor spaces, finding a washroom or making your scheduled train time is no longer hectic or stressful. 
Parking space information
A common challenge for travellers when arriving at a busy train station is finding an available parking spot. However, with a digital map, it becomes easy for passengers and staff to locate parking. Travellers can use the map to visualize and access parking services, and when integrated with other smart building technology, such as an IWMS, parking sports can be reserved directly from the map. Indoor mapping in train stations is thereby integral to help build smart cities; which aim to improve the living conditions for residents. 
With Blue Dot, you can locate the closest available parking space to your current location, book it, and populate directions directly there. You can then use indoor maps to navigate from the parking lot to the check-in area or train terminal. With indoor-outdoor navigation, this provides a seamless journey from arrival to getting to your train, including a path from the parking lot, to your terminal. This ensures that you'll always make your scheduled departure time, no stress involved.
Wayfinding for passengers to their platform
All indoor spaces, including train stations, can benefit from indoor navigation maps and wayfinding. Indoor mapping solutions provide intuitive directions across any device, whether mobile, web, or digital directory displays.  Along with offering accurate turn-by-turn directions and indoor-outdoor navigation, digital mapping solutions allow travellers to quickly get acquainted with the venue as they pan, zoom, and rotate the interactive display. As the map moves, so do the dynamic elements such as text labels. This way, passengers can find their way around the train station without difficulty.
Users can see the fastest route to their destination as well as browsing ongoing promotions, train times, and even their precise, current location if the station is equipped with indoor positioning technology. Simply enter a start and end location to receive tailored directions that take factors like accessibility into account. This way, customers with disabilities, families with strollers, senior citizens, and other travellers in need of ramps or elevators will be provided with routes prioritizing these over stairs. Moreover, facilities teams and managers can edit maps in real-time, meaning that visitors can always rely on up-to-date directions to their destination. 
Reduce customer inquiries and questions
What is the fastest way to get to my train terminal? How do I get to the check-in counter? Where can I find a washroom? These are some of the common questions passengers have when travelling. With a digital mapping solution, these customer inquiries and questions can be reduced, freeing up valuable time for staff members. Digital maps can be accessed around train stations on digital directory displays, through QR codes on printed materials, or through the comfort of your phone.
When lost or confused, the digital map acts as a source of truth for passengers and employees, who can refer to it for questions they might have. As users type, predictive results appear, minimizing the number of keystrokes needed to find a location. This makes it easy to search for services such as food vendors, and get directions directly there, thereby optimizing time and putting an end to customer complaints.
Improve employee satisfaction
Digital maps not only improve the travelling experience for passengers, but can drastically improve employee satisfaction as well. Passengers can refer to maps for directions and questions, optimizing employees' time to focus on other tasks at hand. With indoor positioning, travellers and staff can also be notified about delays immediately and manage their time accordingly.
Employees also receive the same benefits as passengers: help to locate facilities and trains, washrooms, vendors, and more. This is optimal for onboarding new employees that are less familiar with the train station, as well as helping experienced employees get the fastest route from point A to point B. This can prove useful in emergencies, when employees must attend to a specific location in a timely manner. 
Even more, multiple map views of your train station can be implemented, with varying control and access based on user (i.e., travellers, employees, maintenance teams, and security agents). Implementing an effective management system ensures that travellers aren't inconvenienced, and staff members can maintain a stable workflow, thereby increasing employee satisfaction and efficiency. Digital solutions such as an indoor map also has the added benefit of integrating with other systems such as facility management, location-based messages, asset tracking, and more.
Provide traffic data
Digital mapping solutions are also useful in providing traffic data on your train station. By enabling indoor positioning at your train station, you can better understand how travellers move through the space, analyze search data to determine the most popular destinations, view top category selections, device usage, and more. This yields valuable insights and analytics on how passengers interact with your train station, which can lead to more informed decisions at your property.
Along with reviewing the data, you can export and share data with other stakeholders. For example, Mappedin customers can export the visual reports or the raw data from the mapping platform. This is useful if you want to pull this data into other reporting outside of the mapping data.
Understand passenger flow
Understanding passenger patterns and trends is crucial in order to leverage insights and enhance passenger flows in your train station. These indoor spaces are often crowded, congested, and difficult to navigate when rushing to make your scheduled train time.
By gaining insights on traveling volume and flow patterns, facility managers can leverage this real-time information to maintain their maps for better user experience and space efficiency, and safety. For instance, by understanding the movement of passengers, management may realize that passengers are lined up in an area that doesn't allow for social distancing. Moreover, if they understand that 50% of passengers go down one particular hallway, even if there are alternate routes, this might be a good location to feature food vendors to increase sales. 
Push notifications for train details 
Indoor positioning integrated with your digital solution can enable push notifications that help remind passengers of travel times, nearby washrooms, vendors, deals on tickets, and much more. This technology allows train stations to display up-to-date and personalized information, which may include a passenger's train terminal or an auto-populated path to commuter routes for a passenger that takes the same train every morning. 
Along with train details, indoor mapping can also integrate with ads, promotions and proximity messaging to highlight vendor offerings. This could notify passengers of a deal at a nearby food vendor, or simply highlight a key destination for travellers such as a ticket counter or other points of interest that  increase passenger spending. Push-notifications can also trigger greetings when passengers enter or leave the train station, along with live updates on delays or interruptions along their route. 
Why train stations need digital signage
Showcasing your digital indoor mapping solution through digital signage allows passengers to access your map from several key areas. Whether it is a digital directory upon entry, or by the train platforms, you can utilize signage to inform and direct passengers. For instance, digital signage can display train times, advertise the food court, or vendors within the train station can have a QR code, which once scanned, will provide turn-by-turn directions directly there. This way, passengers can find their way around without having to search at all. 
You can showcase important building or transit information front-and-centre on your digital directory displays. With the Map Editor, you can create content and schedule it to appear for specific periods of time. It can also be used to increase passenger spending with strategic advertising and promotions, while ensuring customer satisfaction with timely updates regarding last minute gate changes or delays of service during peak times. Whether passengers want to take the digital map on-the-go by using a QR code, or use directories around the station, you can ensure a consistent experience as users locate their target destination. 
Indoor mapping solutions deliver an enhanced digital experience for passengers and staff travelling through your train station. Help guide passengers, reduce confusion and congestion within your venue, improve customer engagement, and much more. To learn more about this technology, contact us and book a demo today.